STEAMe GARTEN Kindergarten System leads the way in adapting new educational movements and applying an integrated approach of STEAM education and Project-based learning with the latest technology and a standardized English program. Our system's success and steady growth are not without the love and support of our parents and students, along with the passion and contribution of our STEAMe teachers and staff. Such has constructed a holistic educational system with a consistent bilingual framework applied to all campuses in our system nationwide.
BOARD OF MANAGEMENT
Our ship to success has been steered and navigated by our esteemed 'captain' and founder – Ms. Le Thi Thu Huyen, M.Ed. Ms. Le Thi Thu Huyen is the CEO of iGARTEN Education Development JSC., the founder of STEAMe GARTEN Kindergarten System, and the director of E-Tech Education Training Center.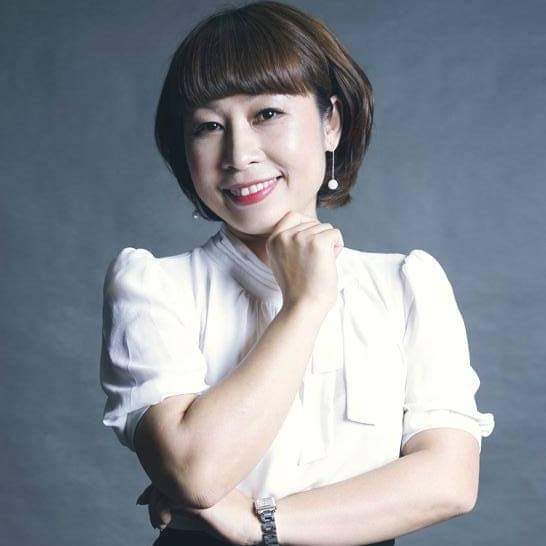 As a graduate of the School Education major at Akita University, Japan, Ms. Le Thi Thu Huyen, M.Ed, has had more than 20 years of experience in advisory, consultancy, and training for prestigious schools and educational organizations, both nationwide and worldwide.
The development of STEAMe GARTEN also recognizes the significant contribution from our specialized departments led by professional and passionate leaders.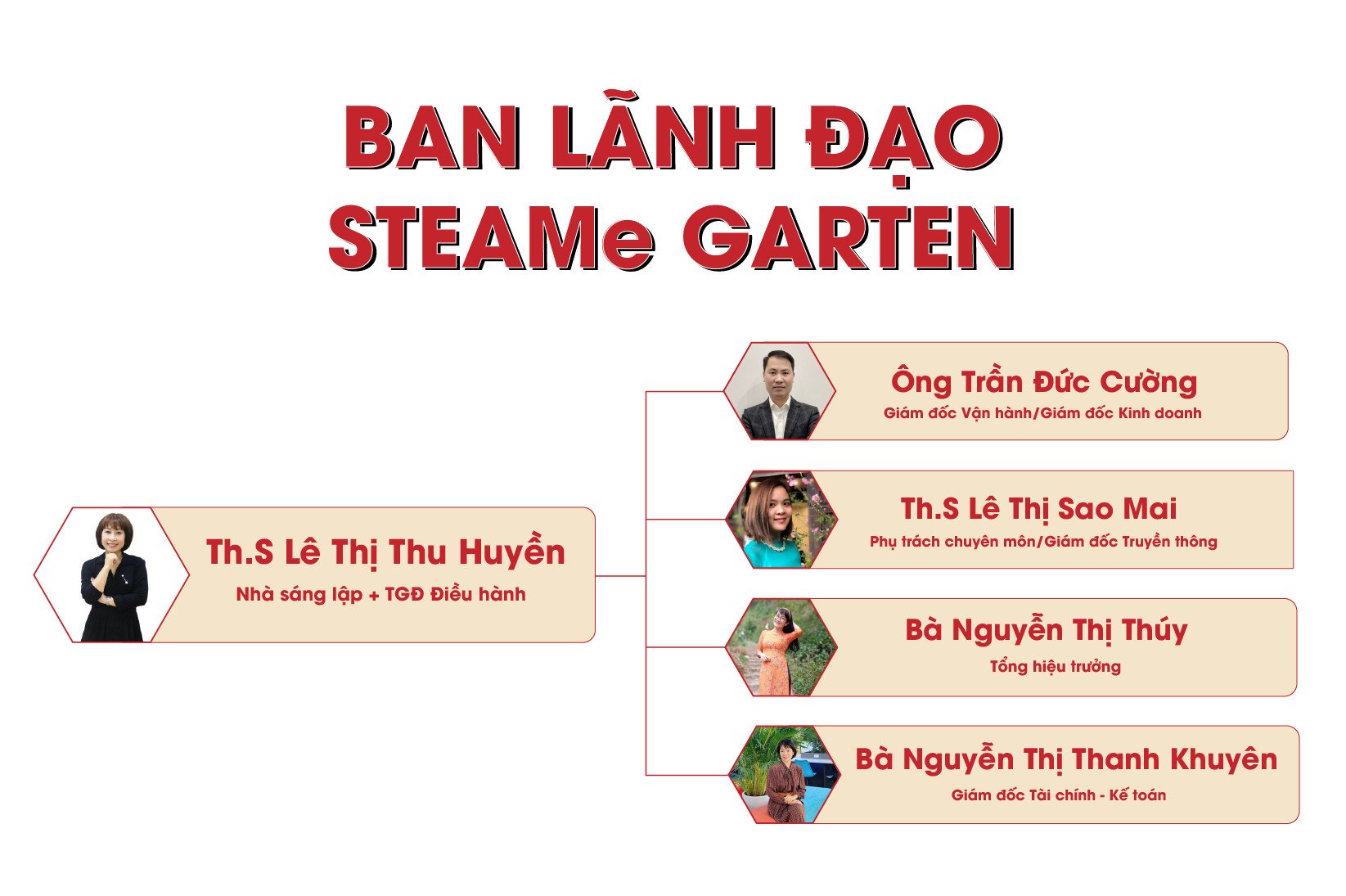 Photo: STEAMe GARTEN Board of Management
Ms. Le Thi Thu Huyen, M.Ed. – Founder and CEO
Mr. Tran Duc Cuong – COO and CCO
Ms. Le Thi Sao Mai, M.Ed. – Academic Manager and CMO
Ms. Nguyen Thi Thuy – Executive Principal
Ms. Nguyen Thi Thanh Khuyen – CFO
STEAMe GARTEN Kindergarten System is proud to be the provider of a top-tier modern, STEAM-standardized educational environment for kindergarten children in Vietnam. And the fundamental elements that have constructed such an environment are not without modern facilities and high-tech equipment, the adaptation of a well-researched and designed educational program. These factors get paired up with a passion for teaching from our Vietnamese and foreign teachers and staff – those who are not only professional and experienced but also possess a fond love for children. 
The current number of STEAMe GARTEN campuses has hit 17 and is still growing:
The current number of STEAMe GARTEN campuses has hit 17 and is still growing:
STEAMe Hồ Gươm
STEAMe Dolphin
STEAMe Helios
STEAMe Lê Trọng Tấn
STEAMe Rivera Park
STEAMe Kosmo
STEAMe Chùa Hà
STEAMe Hào Nam
STEAMe Giải Phóng
STEAMe The Legend
STEAMe Eco Lake View
 STEAMe D'Le Roi Soleil
STEAMe Thành Nam
STEAMe Cái Dăm
STEAMe Mon Bay
STEAMe Vườn Sáng tạo
STEAMe Thảo Điền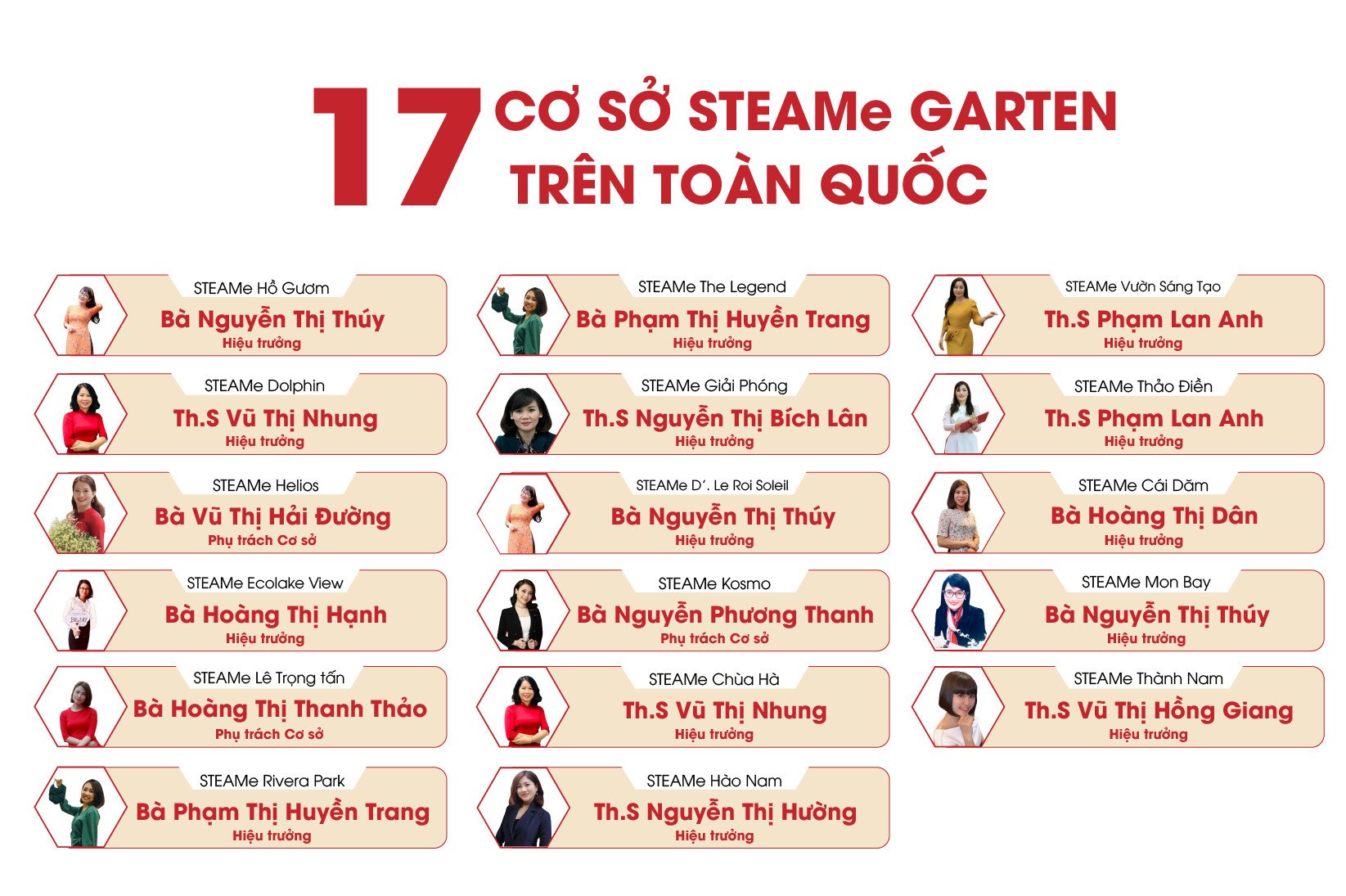 Photo: 17 STEAMe GARTEN Campuses nationwide
STEAMe Ho Guom: Ms. Nguyen Thi Thuy – Principal
STEAMe Dolphin: Ms. Vu Thi Nhung, M.Ed. – Principal
STEAMe Helios: Ms. Vu Thi Hai Duong – School Manager
STEAMe Eco Lakeview: Ms. Hoang Thi Hanh – Principal
STEAMe Le Trong Tan: Ms. Hoang Thi Thanh Thao – School Manager
STEAMe Rivera Park: Ms. Pham Thi Huyen Trang – Principal
STEAMe The Legen: Ms. Pham Thi Huyen Trang – Principal
STEAMe Giai Phong: Ms. Nguyen Thi Bich Lan, M.Ed. – Principal
STEAMe D'. Le Roi Soleil: Ms. Nguyen Thi Thuy – Principal
STEAMe Kosmo: Ms. Nguyen Phuong Thanh – School Manager
STEAMe Chua Ha: Ms. Vu Thi Nhung, M.Ed. – Principal
STEAMe Hao Nam: Ms. Nguyen Thi Huong, M.Ed. – Principal
STEAMe Vuon Sang Tao: Ms. Pham Lan Anh, M.Ed. – Principal
STEAMe Thao Dien: Ms. Pham Lan Anh, M.Ed. – Principal
STEAMe Cai Dam: Ms. Hoang Thi Dan – Principal
STEAMe Mon Bay: Ms. Nguyen Thi Thuy – Principal
STEAMe Thanh Nam: Ms. Vu Thi Hong Giang, M.Ed. – Principal
OUR MOTTO AND MISSION
To become the second home for our children, STEAMe GARTEN strives to constantly improve the quality of our teachers as we always facilitate and encourage them to become better in terms of professional competency and teaching skills.
The motto that every STEAMe GARTEN staff and teacher upholds: STEAMe GARTEN is the second home of our children.
The teachers at STEAMe GARTEN are instructors who constantly apply new strategies to their teaching with the students as a central core. They are even more like a mother and a sister who would always be there to support and inspire the children with a passion for exploring further knowledge horizons.
Every teacher is a 'mother' who accompanies our children during their first steps embarking on the journey to explore knowledge.
Our foreign English teachers are internationally qualified educators undergoing evaluation and training periodically.
We prioritize the professional quality of our teachers.
Every STEAMe GARTEN teacher receives exclusive training to improve their professional competency, expertise, and STEAM teaching skills.
Before becoming teachers working in our system, the candidates must possess the standardized qualifications of a Kindergarten teacher. In addition, teacher number 1 (or homeroom teacher) must have three years of experience, and teachers 2 and 3 have at least one to two years of experience.
All teachers possess a decent English language proficiency which constantly improves with the support of foreign teachers at work.
Upon joining STEAMe GARTEN, the teachers will undergo an internal training course before they get assigned to a class. This training course includes essential modules such as Standards for a Kindergarten Teacher, Professional Standards, Educational Communication and Interaction, and Standards for High-quality Services in Education.
The teachers will be observed twice monthly (fixed) and unannounced at any time.
All teachers are to undergo training to perform massage for children properly.
– * – * – * – * –
STEAMe GARTEN staff are the factors that elongate our success. Their contributions lead us to believe that every STEAMe child will possess a concrete foundation of health and personality, as they exude a great sense of self-reliance and passion for knowledge. We are truly grateful for the trust, effort, and outstanding contribution of every staff member and teacher here at STEAMe GARTEN.